10k NTC THERMISTOR USB TEMPERATURE RECORDING
READ 10k NTC USB TEMPERATURE THERMISTOR TEMPERATURE SENSORS WITH YOUR PC
The ROI-USB-Thermistor is a simple to use PC compatible thermistor temperature measurement system. Record 10K ohm or 2252 ohm series 400 NTC thermistor temperature with your Windows PC and industry standard thermistor temperature sensors.
PLUGGABLE EURO ELECTRICAL CONNECTORS

SNAP ON MOUNTING BASE FOR DIN RAIL OR SURFACE MOUNTING

PC POWERED BY USB PORT

USEFUL FOR TEMPERATURE TREND MONITORING

SIMPLE TO USE SOFTWARE INCLUDED

USE WITH WINDOWS DESKTOP OR LAPTOP SYSTEMS
Specifications:
Input range: -50 to 120 Deg C
Input: (4) 2252 Ohm Thermistors or 10K ohm NTC Thermistors
Resolution: (10 BIT)
Supplies: via USB port
Connections: 2 per input, 2 inputs per connector plug in top entry connectors
Wiring: screw clamp stripped wire connection 30-12awg wire
Mounting: 35mm DIN Rail or Surface mountable snap on base
Expansion: side by side install of multiple units is possible
Dimensions: 4.510 X 1.258 X 3.948 (height above rail) LWH***
*** Mated connector adds additional 3/8" to height.
Included Windows compatible software allows simple installation and operation.
Use ROI-USB to read real time temperature data directly with Excel!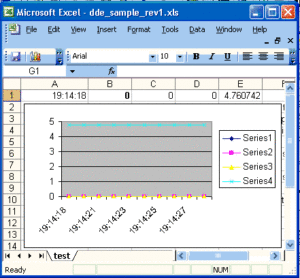 USB TEMPERATURE RECORDING