Robert Owen is a Sensor Measurement Specialist. Manufacturer of Sensor Signal Conditioning and Sensor Measurement Systems. Specialists in sensor analog & digital signal conditioners. Robert Owen will use a variety of readily available hardware and software components to get the job done. But if it is not available we will make it. We provide our customers with systems that have what they need. Here are few examples of devices we made to fill a customer need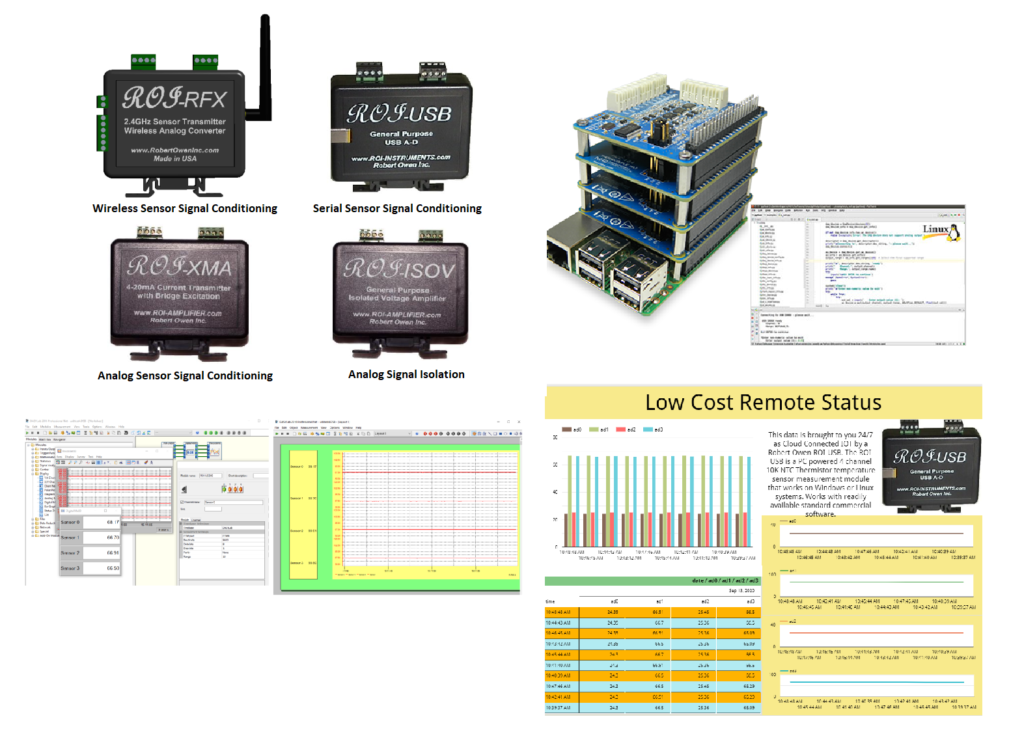 Custom components that turned into standard products
For instance, 4-20mA sensor transmitters, USB sensor data acquisition, and Wireless remote sensor monitoring. Because these are all part of the range of sensor converters we offer. For example standard previously custom products include: PLC compatible 4-20mA sensor transmitters, isolation amplifiers, PC compatible USB sensor converters, and wireless (RF) sensor converters. Also products for remote sensor telemetry monitoring, & recording. Such as 4-20mA transmitter signal conditioners compatible with Thermistor & RTD temperature sensors, potentiometer level & position sensors, and more.
In addition our ROI-XMA, ROI-ISOV10, ROI-USB, ROI-RFX products; because we offer the components that make sensor measurement simple. Also we offer DIN rail and surface mounted packages. For example Thermistor, RTD, and Potentiometer measurement are typical solutions for us. So many ranges from our standard products possible, started as custom solutions.
Robert Owen Inc Sensor Measurement Specialist
A small US business specializing in the manufacture of instrument amplifiers and instrumentation systems. Products and systems designed for simple use. Made in the USA, Shipping Worldwide.
How can we help?
Many of our standard products can be customized for a special need. Let us know your needs.